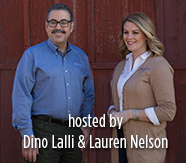 Hosted by: Dino Lalli and Lauren Nelson
Hitch a ride with us each week to discover friendly folks, tucked-away attractions, roadside eateries, and grand adventures – from the extreme... to the serene – plus, insider tips for making your next Oklahoma get-away unforgettable!
AIR TIME
Discover Oklahoma is shown Saturdays at 6:30 pm on KTUL-8 in Tulsa, KFOR-4 in Oklahoma City, KSWO-7 in Lawton. Or at 5:00 pm Saturday on KXII, Sherman/Denison, Texas and KCTU in Wichita, Kansas.
Also check local listings for show times on these cable outlets: KOMI-TV in Woodward, GTV-20 in Guthrie, KWEM-TV in Stillwater.
What was that thing I saw ?